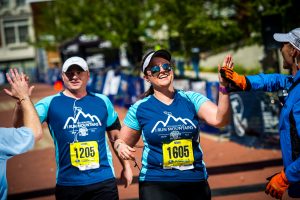 "I must say you ran the most well organized race I've ever done."     -Rich from NC
"After 400 Marathons and over 350 of those under 3 hours, this was easily the most challenging course I have run. But you have a ton of warning. America's Toughest Road Marathon medal is definitely EARNED by anyone completing the course. My medal is going to stay around my neck for awhile. Well done!" -Chuck Engle (world record holder)
"I run a race almost every weekend, and the Blue Ridge Marathon is by far my favorite race… With every other race, I don't feel satisfied unless I get a good time… With the BRM, it's truly an accomplishment just to finish… It's a very tough course, but it's extremely rewarding when I tell people that I ran "America's toughest road race"… I would not drive six hours from Dayton, Ohio to Roanoke, Virginia for just any race, but for this one, I will definitely be coming back to run it every single year. 
 "    -Peter from Dayton, OH
"The only reason I gave 5 stars is because I couldn't give 6. This is a wonderfully-well-run event. People are uber-efficient and friendly. Everyone, from volunteers to staff to runners to spectators to security, is encouraging and responsive. They advertise as "America's Toughest Road Marathon" – they can also legitimately claim to be "America's Best Road Races." Kudos to all involved."    -Rick from Blue Ridge, VA
---
READ HUNDREDS OF MORE ⭐⭐⭐⭐⭐ REVIEWS ON…
DON'T FORGET TO WRITE YOUR OWN!
As the saying goes…a picture is worth a thousand words!  Check out the happy runners, beautiful views and fun finish festival in the images below!