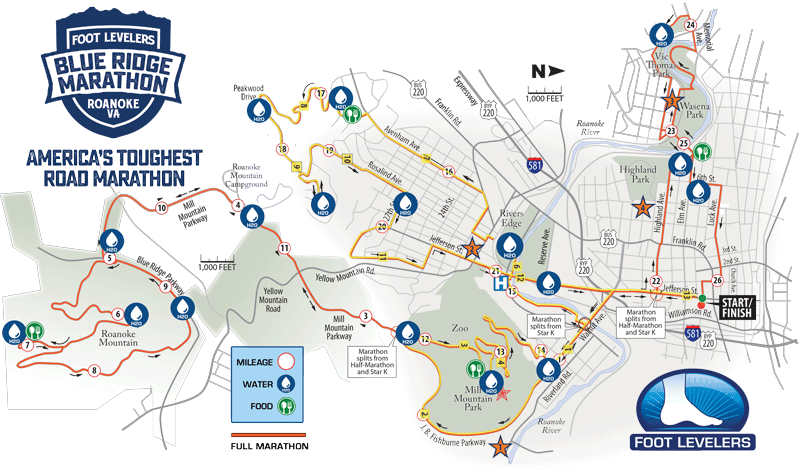 **Find the Stars on the Map and then refer to the address and details below. We admit our course can be difficult to navigate for spectators because Mill Mountain and the Blue Ridge Parkway are both closed to vehicle during the event because of park regulations. But we hope you find some good options below. The red line is the full marathon course and the yellow line is the half marathon course. The 10k just goes straight up and down Mill Mountain.**
To make following your runner along the course easy, download the live tracking app! Just enter their name or bib number and voilà!
IMPORTANT NOTICE: The Franklin Rd. bridge closure makes it VERY difficult to travel back and forth to the River's Edge, South Roanoke, Roanoke Memorial Hospital (aka. Carilion) area on race day. We HIGHLY recommend taking the Elm Ave. ramp onto I-581 to bypass the race course and then exit on either Colonial or Wonju when traveling from downtown to that area (or vice versa).
Spectator Location #1: For Hikers!- Star Trail Parking Lot
---
Spectator Location #2: First Presbyterian Parking Lot
---
Spectator Location #3: Street Parking on Wasena Ave. (or nearby)
---
Spectator Location #4: Street Parking Near Highland Ave.
---
Other Helpful Links-