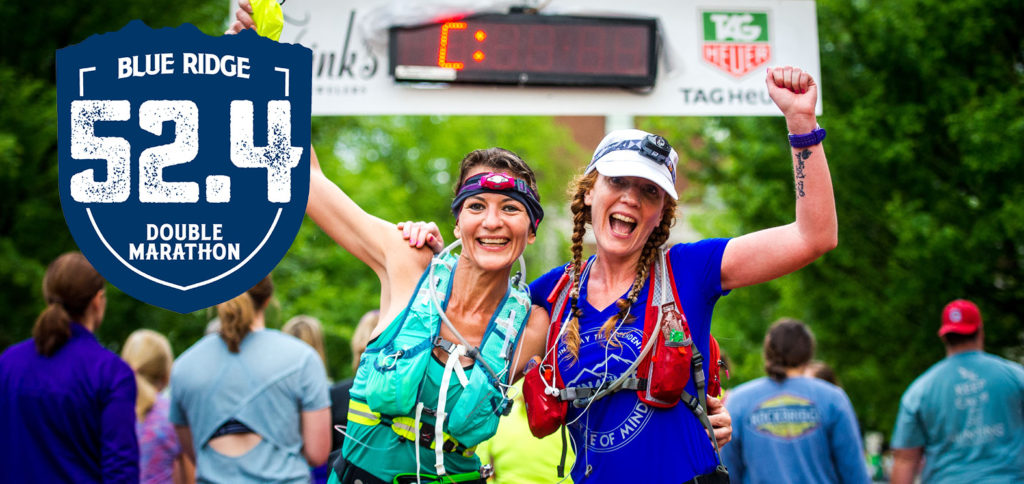 April 20, 2024
For years, a group of dedicated (some might argue crazy) runners have shown up in the middle of the night before the Foot Levelers Blue Ridge Marathon. This un-official "double" rapidly gained popularity and soon there were dozens of runners burning the midnight oil to run 52.4 miles within fourteen hours (many finish in 8-9 hours).
That is when the Blue Ridge DOUBLE Marathon was born. 2017 was the first official year and it sold out with 75 runners. In 2018 the race allotted 100 spots, and sold out again. We now cap the event at 150 runners, and sell out every year. The race has a cult-like following with runners coming from all over the country to test their grit on America's Toughest Road Marathon (or double) course.
Epic Challenge, Beautiful Views, A Music Festival, Slow-K Recovery Fun Run, and More!
---
DOUBLE LOGISTICS
Blue Ridge Double Marathon registration includes double specific bibs, finisher shirts, finisher medals, official results, and an awards ceremony.  Awards will be reserved for the top three overall male & female finishers, however all those who complete the double will be recognized at the awards ceremony.  All runners who register for the double will be contacted prior to race day and given much more detailed instructions.  But here are the general details of how the double marathon is organized:
In order to receive an official result you must check-in and have your official start time clocked at either 1:00 or 2:30am.  We recommend that all runners arrive at least 15 minutes prior to the start time as late runners will not receive an official result time.
DOUBLE START #1: 1 a.m. at the Patrick Henry Hotel (Recommended for runners who plan to finish the first lap in ~SIX hours)
DOUBLE START #2: 2:30 a.m. at the Patrick Henry Hotel (Recommended for runners who plan to finish the first lap in less than FIVE hours)
On the course we will have several support vehicles that runners can communicate with in case of emergency.  They will also be waiting at 5-7 check points to perform "roll call" and ensure runners complete every leg of the course, as well as to make sure all runners are safe and accounted for.  The support vehicles will have water and basic first aid, but all double runners are responsible for their own hydration and nutrition on the first leg of the course.
Your first lap finish will be recorded by our timing company as you cross over the finish line, and then be added to your chip timed results for the second lap.  You may use the time prior to the start of the second lap to stretch, rest and re-hydrate.  All runners who wish to receive an official result and to still be considered an active participant in our race, MUST CROSS THE STARTING LINE AT 7:35 a.m. WITH ALL OTHER FULL MARATHON RUNNERS (i.e.  Do not be late finishing your first lap or you will be pulled from the course).
Epic Challenge, Beautiful Views, A Music Festival, Slow-K Recovery Fun Run, and More!
---
DOUBLE COURSE DESCRIPTION & MAPS
The Double Marathon is limited to 75 runners
Total Elevation Gain/Loss=14,860 ft (about half that is elevation gain)
The second lap will have a 7.5 hour cut-off time AND a 6 hour cut-off time at mile 22. The first lap MUST BE COMPLETE before 7:30 a.m. or you will not be allowed to start the second lap.
If runners do not maintain a 16:20 min/mile pace then course marshals reserve the right to pull you from the course for your safety.
USATF Full Marathon Course Map – The course will not be blocked off or fully marked when you begin your first lap, you are responsible for making sure you know the course and not getting lost!
Full Marathon Race App Map (same as the double, you just do it twice)
There will be ~4 support vehicles "leap-frogging" throughout the course on the first lap to make sure you are accounted for. They will have basic supplies such as water, Tailwind Nutrition hydration, GU gel, etc. but please bring your own bottles, lights and other required nutrition.
---
DOUBLE SAFETY
For the safety of all runners involved in the Blue Ridge Double Marathon, you will be required to show the following equipment at race start: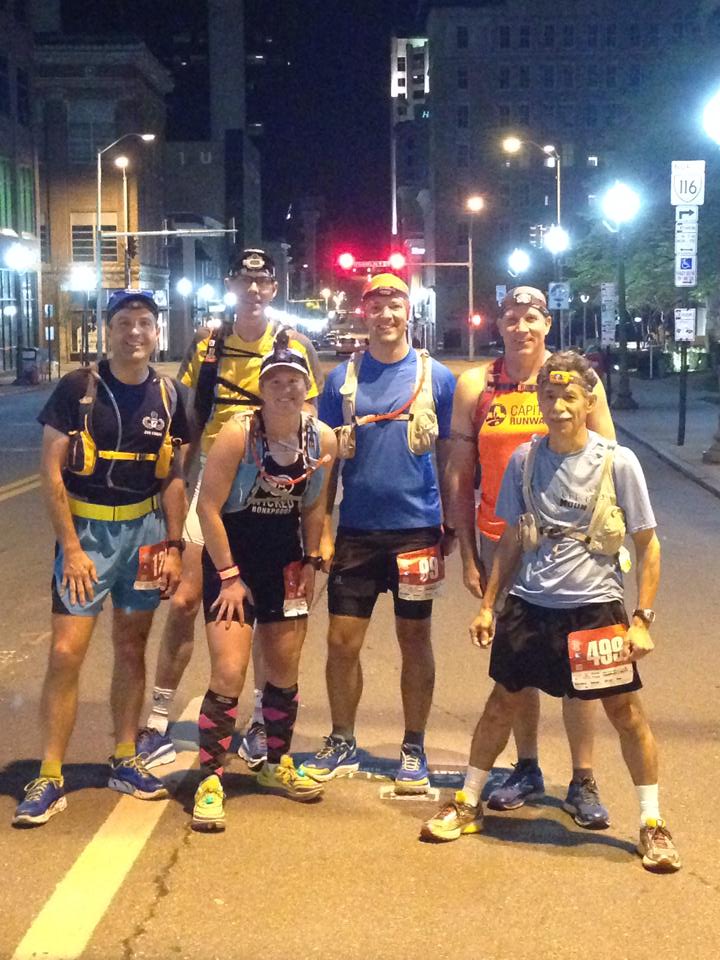 Phone: All double runners must carry a phone in case of emergencies. You will be provided with the numbers of our support crew in case you need someone to pick you up.  In case of a real emergency please call 911 first.
Reflective Clothing: Please wear reflective clothing or a reflective vest during the entirety of the "first lap".  You will be running the majority of that lap in the dark on open streets. None of the streets will be closed off until lap two, so please use extreme caution when traveling through intersections or crossing streets. Also make sure to follow all normal rules of the road.
Hydration & Nutrition: While the second lap of the race will be fully supported with plenty of aid stations, water, Tailwind Nutrition, snacks, champagne and more…the first lap you're kinda on your own. There is just no way for us to have aid stations open for that length of time, so please bring LOTS of food, electrolytes and hydration for the first 26.2 miles. You are attempting to run America's Toughest Road Marathon TWICE in a row. Take lots of breaks to replenish and take in the view (especially as the sun is rising)!
Blinking Lights: All runners will be required to have at least ONE headlamp or flashing light on their person. It is also recommend, however not required, that you stick with a buddy on the first lap of the course at all times. Either convince one of your crazy friends to do the race with you, or find someone at the starting line who has a similar pace and stick together. That way if something happens to you either one of you, you can call for help on their behalf. Be smart and make good decisions, this is a BIG goal you are undertaking. Please don't do so lightly…
Questions?  Contact our event manager via email.
REGISTRATION
Register early to ensure the best rate, discounted registrations will only increase as we move closer to race day. Registration closes at 8pm on Tuesday April 13. There will be no expo registration or day-of registration.
SPECIAL AWARD
Established in 2019, the Jack Humphrey Endurance Award is given to the first-place men's and women's Blue Ridge Double Marathon finishers. LEARN MORE