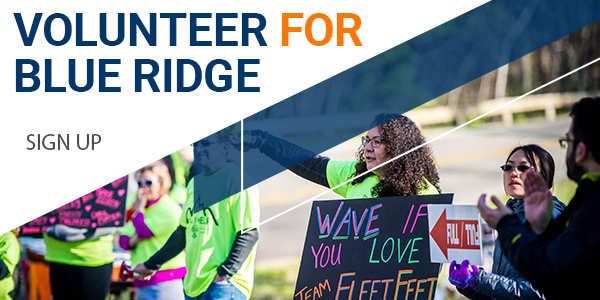 ---
EMAIL OUR VOLUNTEER COORDINATOR IF YOU WOULD LIKE TO BE ADDED TO OUR VOLUNTEER LIST AND RECEIVE UPDATES.
We all have personal challenges and goals we want to fulfill, and the Blue Ridge Marathon Race Series would not be possible without the hard work and dedication by so many people in our community. More than 550 people volunteered for the Blue Ridge Marathon, Half Marathon, and Star 10K last year. To date the Blue Ridge Marathon has donated over $210,000 to charity and had an economic impact within the region of $6.9 million. Volunteering for this event benefits the community in SO many ways, making it a healthier and more vibrant place to live for everyone.
We hope that you will join the army of citizens who contribute to "America's Toughest Road Marathon". For runners and visitors it's the volunteers that help ensure a safe, and fun, event.
Did we mention — it's a lot of fun too?! The runners love interacting with volunteers at the start, finish, and all along the course. So gather your family members, rally your co-workers, enlist your book club, tailgate with your neighbors and register to help ensure this is the best year ever. We will be celebrating our 10th anniversary after all!
INTERESTED IN USING THE MARATHON AS A GROUP FUNDRAISER? CLICK FOR DETAILS!
---
Early Volunteer Check-In:
Location: Fleet Feet Sports Roanoke
Monday (race week): 11am-2pm
Wednesday (race week): 4pm-7pm
Standard Volunteer Check-In:
Location: Elmwood Park (Williamson Rd. side for volunteer check-in)
Friday (race week): Starting at Noon (Expo ends at 8pm)
**More details about your volunteer task and position will be emailed to you prior to race day by our new coordinator, Kat Andrew.  If you have questions please email our volunteer coordinator, and please be patient…she is a volunteer too!**
---
Runner Testimonial:
"Now I have run at least 25 other marathons, and many of the volunteers at those races have been good, but the Blue Ridge volunteers were in another class. As I walked through so many of the water stops, I was rooted on so enthusiastically that it was almost embarrassing. I think the volunteers almost single-highhandedly gave me the strength to finish the actual marathon. The townspeople were also incredible."
-M.S. from Pittsburgh, PA (5/1/14)