Training through the winter for a spring marathon can be tough. Short (AND COLD) days, snowy and icy terrain, and that general winter hibernation feeling that seems to biologically pull you onto the couch with slippers and cookies. Your mind is telling you no…but the spring races you've already paid for are telling you YAAAASSSS!
TIP #1: SAFETY FIRST
It's a huge bummer when you walk out of work at 5:00PM and it's already dark out. Blinking lights, glowing ankle bracelets, reflective clothing and vests can help make it more festive. Think of yourself as a moving Christmas tree for all to enjoy!
Thoughts from Blue Ridge Coaches: Run with a buddy! Two people (or more) are going to be more visible than one.  ALWAYS RUN AGAINST TRAFFIC…whether it's night time or not. Ditch your headphones so you can be more aware of your surroundings. Bring your cell phone so you can call someone if you feel like you're in a dangerous situation.
TIP #2: DRESS IN LAYERS
This may seem obvious but it can make or break you on a winter run. It may feel freezing when you're just standing around, but get moving and you start to burn up. Start with a nice base layer, if it's really cold add a fleece or heavier quarter or full zip, if it's windy or maybe a little rainy add a shell.
Thoughts from Blue Ridge Coaches: If it's really cold wear gloves, a neck gaiter (doubles as a mouth cover to prevent that burn in your lungs feeling), and hand warmers. We prefer ear warmers over a hat because your ears won't burn, but excess heat can still release from the top of your head once you get moving.
TIP #3: TRAIN WISELY & BE FLEXIBLE
If there is a blizzard out, it may not be the best day for a long run. Push your long run back to the next sunny day and do some cross-training inside instead. Or if you can stand it, hit the treadmill at your gym or local YMCA. Make sure that you aren't trying to push yourself to do crazy things that could cause injury.
Thoughts from Blue Ridge Coaches:  As the temperature drops your risk of injury increases when trying to push cold and tight muscles outdoors. Hold off on speed training during especially cold days, or maybe find an indoor facility where you can get your fast twitch muscles warm.
TIP #4: HOW & WHEN TO USE A TREADMILL
We know it's not ideal but depending on where you live you may have to do some treadmill training. If it's below zero or icy out, we recommend taking it inside. Here are some treadmill tricks from our coaches to make the most out of your inside time…
Train With Pace– In other words, don't use your heart rate because it will show up a lot lower when you're running on a treadmill. With no hills you'll be pushing just your legs, instead of pulling your entire body forward. Following a heart rate plan won't help you, and it could cause injury.
Vary Your Inclines- You don't want to stress the same muscles throughout your entire run, so you need to vary your terrain. Manipulate your grade periodically to even the pace and to stimulate different muscle groups.
1% Rule- A 0% grade on the treadmill is basically the same as running on a slight downward slope, which isn't realistic and can be bad for your knees. Always run at a minimum of 1% incline to mimic normal road conditions. As you gain strength consider bumping this to 1.5 or 2%.
TIP #5: WINTER POST-RUN RITUAL
Once your heart rate goes down, those sweaty clothes are going to start to give you the shivers. Get out of the cold ASAP. If you are driving to your workout, then make sure to bring extra dry clothes to keep you warm. Choose from these fav feel-good remedies from our coaches…
Steam It Up- It's like the opposite of an ice bath on race day. Head straight to the sauna at your gym, or if you're lucky enough to have a hot tub that will work too!
A Long Hot Shower- This can work miracles after a cold run. This will get your body temp back up and ward off lethargy that can set in after being really cold.
A Hot Toddy- Okay you can skip the booze part probably, but a nice hot beverage like coffee, your favorite tea, or a chai latte will warm you up and get you feeling snuggly in a jiffy.
Once you get into the groove you'll find that training during the winter months is actually kinda awesome. It helps ward off the winter blues, it prevents you from packing on the pudge from all those holiday parties, and you may just become addicted to those beautifully crisp winter runs. Trust us, you'll miss them next summer.
USE CODE RESOLVE2019 TO SAVE 15% OFF THE RACE OF YOUR CHOICE.

---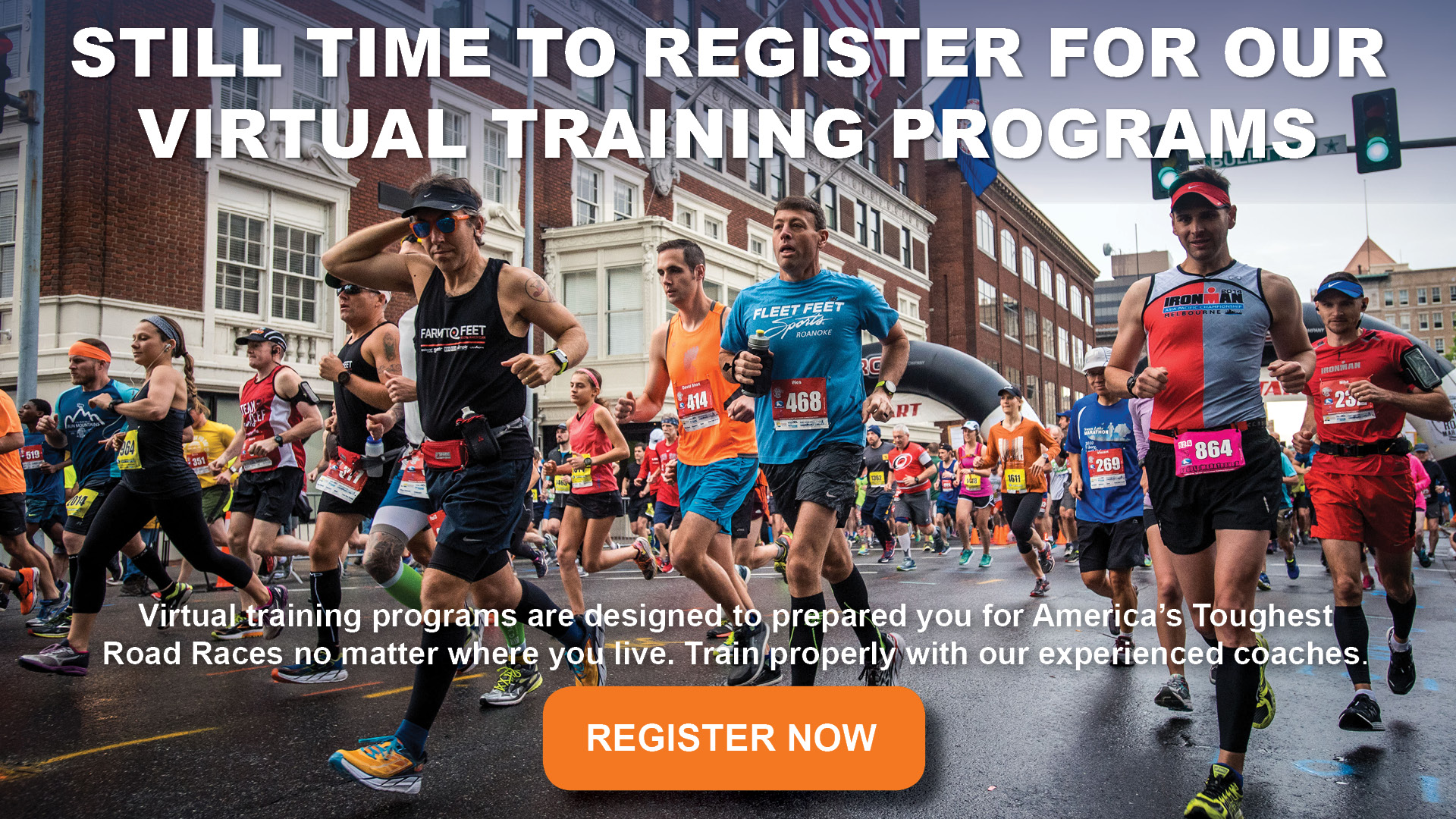 We also have a variety of training program options to help you get motivated:
Virtual Full Marathon Training– Starts December 24th- Last Chance to register is January 3rd
Virtual Half Marathon Training- Starts January 7th- Last Chance to register is January 14th

---
This program is for runners in the 540 area (Roanoke). Fleet Feet Roanoke has been rated on of the Top 50 running stores in the country year-after-year. Their expert coaches run train programs year-round and this is the official Blue Ridge Marathon in-person training for the 10k, Half Marathon and Full Marathon.
In-Person Full Marathon Training – Starts January 7th (Orientation on January 3rd)
In-Person Half Marathon Training- Starts January 21st (Orientation on January 13th)
In-Person 10k Training- Starts January 21st (Orientation on January 13th)
All of our official training programs start for the full marathon on December 24th, and our half marathon training plan starts January 15th. So you'll have a couple months to battle with the elements. But don't lose faith! We have some tips and tricks to help you comfortably and safely train over the winter months, and we hope they'll help you stay motivated too…