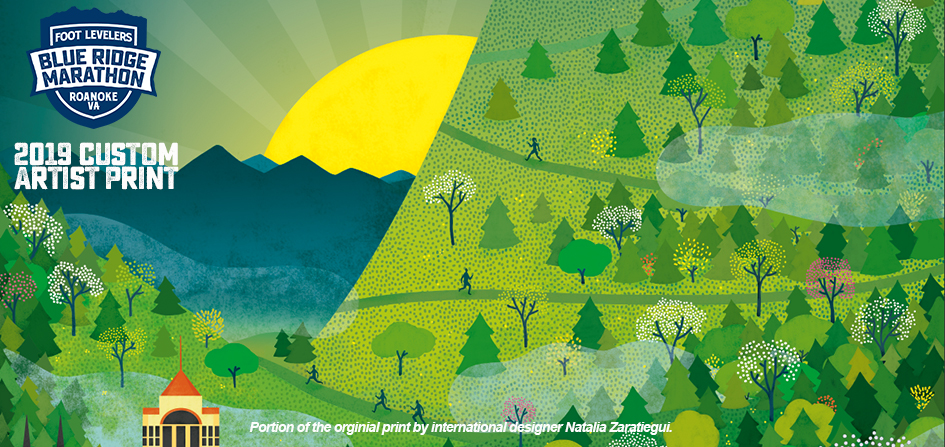 The Foot Levelers Blue Ridge Marathon has released it's third unique art print that captures the essence of America's Toughest Road Race™ experience.
Natalia Zaratiegui from Barcelona, Spain was the artist selected to tackle this year's commemorative print.  Natalia was thrilled about the opportunity to apply her talents to the special 2019 edition in honor of the race's 10th anniversary.
Natalia is an award winning illustrator living and working in Barcelona, she uses strong shapes and a sophisticated colour palette to create atmospheric illustrations. After studying Art History at the University of Barcelona and Illustration at Escola Massana, Natalia began her professional career. She has enjoyed particular success in the world of publishing, where her stunning book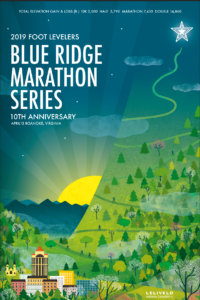 covers and editorial concepts have received recognition from her peers, industry professionals and the public alike.
"Immediately I felt drawn by the combination of physical challenge and amazing scenic beauty. I loved discovering Roanoke and learning about the community spirit that surrounds this event," said Natalia. The design showcases the particular beauty of the Blue Ridge Marathons, the iconic Mill Mountain Star, as well as the perceived height of each summit along the course.
The project was commissioned and developed by Ingmar Leliveld from Charlottesville, Virginia, who has helped bring his artistic vision to the Blue Ridge Marathon for three years in a row. As part of preparation, Ingmar met with local runners and volunteers to hear what the Blue Ridge Marathon means to different people. One encounter in particular inspired him and he's used these details when working with the artists.
"When people sign up there's a sense of fear, as if they just did something they shouldn't have done," said a Blue Ridge race veteran, "but after the race, nobody talks about how difficult it was. Then it's about the community, the camaraderie, the supporters along the course." The central idea of the design is to remind you of that, as enduring window into your own Blue Ridge experience.
This unique art print will be available for purchase in two different sizes at the Race Expo on Friday, April 12 from 2-8pm.