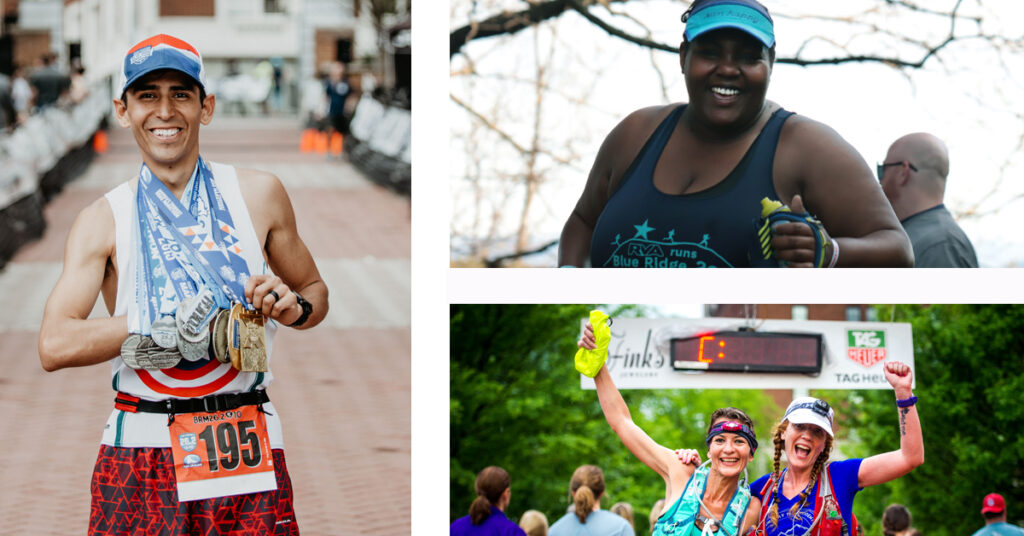 The Foot Levelers Blue Ridge Marathon is looking for influencers to help us tell the world about America's Toughest Road Races™. Ambassadors can participate in any of our race distances (for free) including the full marathon, half marathon, double marathon, 10k or four person relay! We're looking for athletes of all abilities who love telling stories, encouraging other runners, and bringing folks together to do crazy things like run up mountains!
We are also hoping to reach a wider audience, so if you live ~4-7 hours from Roanoke, we may be able to help with transportation costs to make your journey possible. Just include those details in your application below. Only influencers with a following of 5,000 or more will be considered for fees or travel reimbursement.
AMBASSADOR PERKS:
Free race entry to the race of your choice (full, half, double, or 10k)
Free concert ticket to the Down by Downtown Music Festival
Exclusive discount codes for your followers & one entry to give away!
Support from our event manager & race director. Questions? Shoot an email now. 🙂
High performing ambassadors will be gifted a selection of exclusive race swag and additional race weekend perks
Top performing male & female ambassador each win an entire running outfit with shoes thanks to Fleet Feet Roanoke.
Deadline for entries is December 15, 2021, and selected bloggers will be announced shortly after. If selected, your responsibilities will include things like regular posting to social media, engaging with the brand across all platforms, blogs and vlogs where applicable, and hosting mini-events in your region.