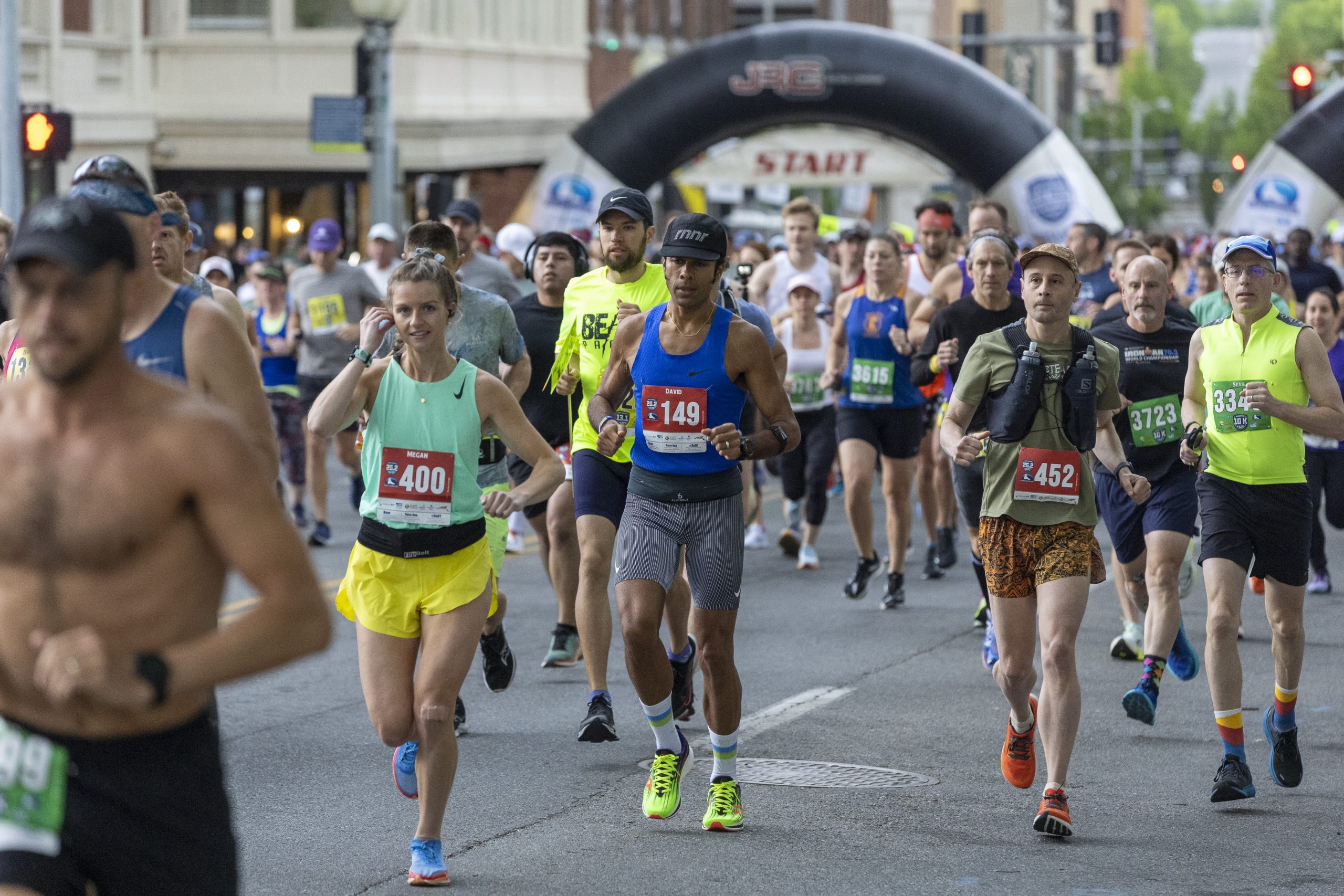 The 14th running of the Foot Levelers Blue Ridge Marathon was certainly memorable. Thunder and lightning may have forced an early cancellation of America's Toughest Road Races, but the rain did not dampen the spirits of runners or the success of the weekend.
"You can't control mother nature. The last thing any race director wants to do is cancel a race once it's started," said Kait Pedigo, event manager for Roanoke Outside. "It's not a small task getting 1900+ runners and 400+ volunteers safely back to the start line. I couldn't be prouder of how our staff, volunteers, public service partners, and community responded when lightning struck an hour and half into the race."
We know runners have hundreds of choices when it comes to choosing a marathon. As a small, specialized race that prides itself on providing an exceptional experience, it was important to us to honor the choice to run America's Toughest Road Races. So, within hours of canceling the in-person race, we pivoted to create an opportunity for runners to finish their race virtually and earn their medals.
An overall increase in registration, visitors, and economic impact
Major growth in the Sunday recovery run: America's Slowest 5k presented by Altra
A new goal for challenge-seekers
We released a new challenge in January: The Full GOAT, and it filled immediately.
Competitors were tasked with conquering ALL of America's Toughest Road Races, including: The Blue Ridge Double Marathon, the Foot Levelers Full and Half Marathons, the Anthem Star 10k, and America's Slowest 5k Presented by Altra. The total distance: 101 miles, all having to be completed on the official course, meaning 26,280′ of total elevation change.
On race day, 25 bold souls, dubbed the "Original GOATs" or "O.G.s," having already completed three of the five races virtually, lined up to complete their final leg. While the cancellation complicated the completion of the the inaugural Full GOAT, they persisted and each completed the challenge. We are inspired by the group and excited to launch the 2nd year of the challenge soon with refined rules and an invitation to these O.G.s to fill the first spots on the 2024 start list.
A growing community of challenge-seekers from every walk of life
A commitment to sustainability
With many thanks to our Impact Partner, Recover Brands, we've made efforts toward sustainable and earth-friendly event practices:
A confident look ahead to the 15th anniversary of America's Toughest Road Races on April 20, 2024
Fourteen years in, the Foot Levelers Blue Ridge Marathon has built a race culture that has taken hold of the Roanoke Region. The April race has become an annual celebration of our running and tourism industries with a cumulative $9.2 million in economic impact since 2010. It has also guided Roanoke to become an event- and tourism-ready region that excels at producing safe, exciting events for thousands of visitors from all over the world. The success of this ever-green race culture is seen most keenly in the additions of other major races like the upcoming Virginia's Blue Ridge IRONMAN 70.3 and the internationally-televised Virginia's Blue Ridge Go Cross Cyclocross.
Beyond our region, we are seeing that the Foot Levelers Blue Ridge Marathon is now a fixture in the running industry, appearing on lists like Runner's Worlds Toughest Races in the World. The sentiment is clear: America's Toughest Road Races is a must-do race. Registration is now open, with nearly 400 runners having already signed up.
To join us as we celebrate the 15th year of America's Toughest Road Races as a runner, volunteer, or sponsor, please give us a shout!