Uplifting Stories From Inspirational People
It is time to meet the 2023 Foot Levelers Blue Ridge Marathon race ambassadors! This year we have a select group of runners joining us to help us welcome participants, both old and new! This group of inspirational, driven, and ambitious runners represent the best of what makes BRM a must-do challenge for those who consider themselves tough enough!!
Find yourself in their stories. From setting goals and smashing them, to fighting illnesses/injuries and prevailing. They have experienced everything that America's Toughest Road Races demand. Some of the ambassador team has provided us with a snippet of their story detailing why BRM has become a staple in their running lives. If you need the motivation to join them on the course…check out their social media accounts and do not hesitate to reach out to them for tips, advice, and maybe even some discounts!
---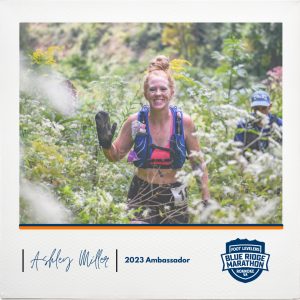 Ashley Miller: Instagram, Facebook
"My first experience with BRM was the double! I'm not much of a road runner but made the exception after all the hype (plus there are mountains so that counts, right?). Let's just say that BRM lives up to everything I had heard. From the race, the volunteers, and the spectators, I had the best time!! I would love to be a part of this again!"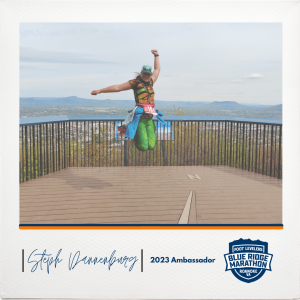 Steph Dannenburg: Instagram, Facebook
"BRM was my first marathon and has been at the heart of my running nearly every year, bringing me back to my hometown. BRM was also my husband and sister's first marathon, which I ran with her, in an incredible journey before she left for overseas. It has become a family event for the past few years. This past year, I came down with COVID-19 for the first time, and have since suffered from long covid, something that affects more females than males. I won't let this stop me from running the race again in 2023, and hope I can be an inspiration to those who also suffer, that hard things are still possible."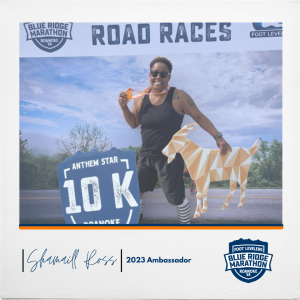 Shamaill Ross
"Growing up my perspective on running was that it should be done when being chased. I would often talk to friends that would try to get me to participate in races and for several years I volunteered at races including the BRM but proclaimed that I would NEVER participate. COVID and Fleet Feet changed my perspective on that. I got into the training program and realized quickly that I needed a goal, a ticky mark, a medal, something to show off my accomplishment.  As I did my first and second races I realized that not only was it good for my ego but it became a part of my overall improving health journey."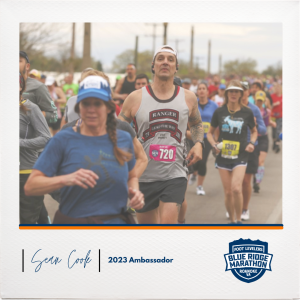 Sean Cook: Instagram, Facebook
"I moved to the Roanoke area after retiring from the Military in 2017. I am a disabled veteran who uses running to help my physical and mental health. I have loved this race since I first experienced it and I love the area. The two go hand in hand and make a great story/experience. I had Covid in 2020 and Myocarditis so bad I could barely run for 1 year. This race is a continuing struggle but a love for me and my health to overcome small obstacles. I really like sharing about this race and having others participate making it a friends and family affair. The real joy is seeing all those friends and families on the course."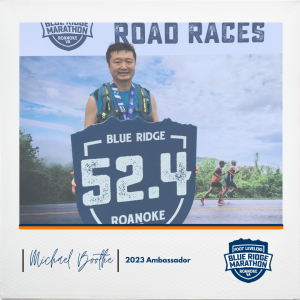 Michael Boothe: Instagram, Facebook
"The 1st year I ran the marathon, I was 2 miles from finishing when it was canceled due to a thunderstorm. I finished but unofficially. The following year I ran the double and really enjoyed it. Covid hit and I ran the double virtually with a runner who wanted to try the double out without the time constraints. I enjoyed giving him pointers on what he needed to improve on to make it in the time allotted. He listened and was able to finish the double the next year. Last year, I ran the double again. I just love that mountain course. I deferred the double this year due to a stomach virus. I'm hoping to be able to run it again next year. If the good Lord is willing, I'll be there."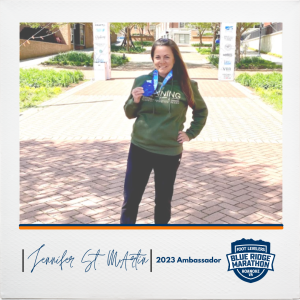 Jennifer St. Martin: Instagram, Facebook
"This race is magical! I have convinced so many to run it in the past, and they've all loved it. Folks in my local running community coined the phrase "I've been St. Martin'd" when I convince them to join me on this adventure. I know they're all itching to say it again!!"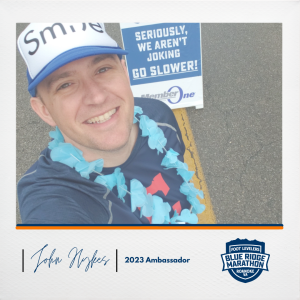 John Hykes: Instagram, Facebook
"This race is the most important one to us every year. 7 years ago, I was lucky to win a free entry. My wife and I came in not knowing what to expect (other than hills!) and were blown away by everything. The people. The course. The people. The city. THE PEOPLE. Since then, we can't shut up about it. Last year, 2 of our friends were finally able to join us and this looks like it's becoming a tradition, with more now asking about joining us.
When people ask why we're so passionate about a crazy tough race in a different state, we share the beauty of the Blue Ridge Mountains, the warmth and welcoming nature of EVERYONE along the course, including the amazing volunteers and all of the people who line the route, and we share that immense sense of pride and achievement that coming across that finish line instills in us. This sport is amazing, and BRM is an incredible example of everything we love about: the people, the views, the challenge, and the community."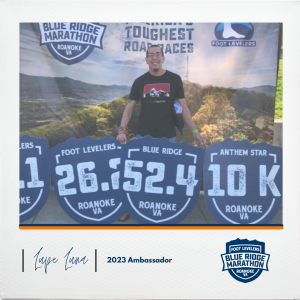 Lupe Luna: Instagram, Facebook
"I was lucky enough to be an Ambassador last year I got a group of my Mount Airy peeps to come and race. Some did this race for the first time, they loved it and will surely be back in 2023! I love to motivate people to get off the couch and move, and also like to compete in some of the races. I want to be my kid's "Super Dad". Here in Mt.Airy RUNGCA helps pace local Half Marathons. I've been fortunate enough to be in the Half, Full, and Relay in this series now I'm going for a top 3 in the 10K to add to my collection of railroad spike trophies which are the best ever!!"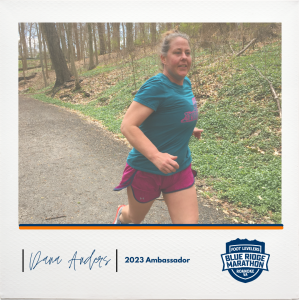 Dana Anders
"I ran my first marathon in 1999 and many more until I gave birth to my son in 2006. Running was pretty much on hold and I became a single mom and learned to deal with autoimmune arthritis.
Flash forward to 2019 I ran my first Blue Ridge, fresh off of a weight loss of 40 lbs. Unfortunately, I had to drop out at mile 18. In 2020 I was an ambassador, but Covid-19 took over the world. I returned in 2021 to finish the half and in 2022 with a 2nd unsuccessful attempt at a full. Like they say…3rd time is a charm. Getting back into running has helped me connect with lots of different running groups in my area. I was very excited to see that I was 3rd overall and 1st for out-of-state ambassadors. I look forward to helping reach even more people this year and spreading the good word about the races. Even my sister and son have enjoyed the 10k."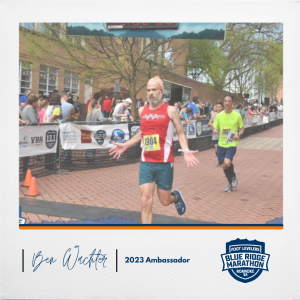 Ben Wachter: Instagram, Twitter
"I first ran the BRM in 2017 where I ran the full and wound up having to go to the ER and get an IV of fluids. After that, I became obsessed with running this race. My wife has forbidden me from running the full again, so I've run the half for the last 4 years. What makes this event unique, besides the elevation, is the town of Roanoke. The people lining the streets are super friendly and the whole race feels like a party. Besides the great local eateries and breweries, the number of things to do in town makes this race a great 'race-cation'!"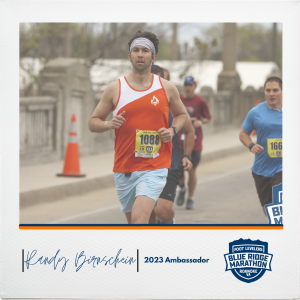 Randy Birnschein: Instagram, Facebook
"I've now been an ambassador for 2 years and I'm so proud to do so. It's the most local marathon there is for me and it truly is the toughest. I love the town, the people, and the race. It's an experience that I believe all runners should have and I love spreading the word!"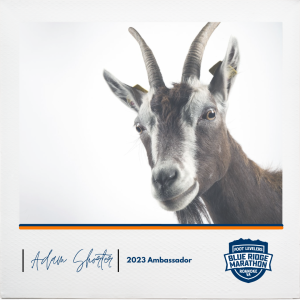 Adam Shorter: Instagram, Facebook
"10 years ago I sought to lose 60lbs, and I had never run more than a mile in my life. Now I've run the Blue Ridge Marathon 4 times and the Ironman Blue Ridge!!"