Blue Ridge Marathon and Recover Brands Partner to Bring You 100% Recycled Shirts
Just another reason to celebrate the race's 10th anniversary of being a green event. If you've attended the Foot Levelers Blue Ridge Marathon over the past decade you may have noticed we do things a little different. We don't offer racer bags filled with little junk and papers, because we don't want to end up with 3,000 bags of garbage at the end of our race. We actually prefer you throw the cups on the ground instead of a trash bag at aid stations because it makes it easier to sort and compost the 24,000 cups we use each year.
We are dedicated to reducing the impact of our event on the beautiful Blue Ridge Mountains and our home, which is why we are proud to partner with RECOVER Brands sustainable apparel. They make high quality, tech and cotton products and the statistics below speak for themselves. Thanks to Recover Brand our shirts will divert 22,480 plastic bottles from the landfill, 5.8 million gallons of water and 34,085 lbs of CO2 emissions. 
By partnering with Recover Brands in 2019 the Blue Ridge Marathon will…
Divert 22,480 plastic bottles from the landfill.
Save 83,738 KWH of energy.
Save 34,085 lbs. of CO2 emissions.
Save 5,800,000 gallons of water.
---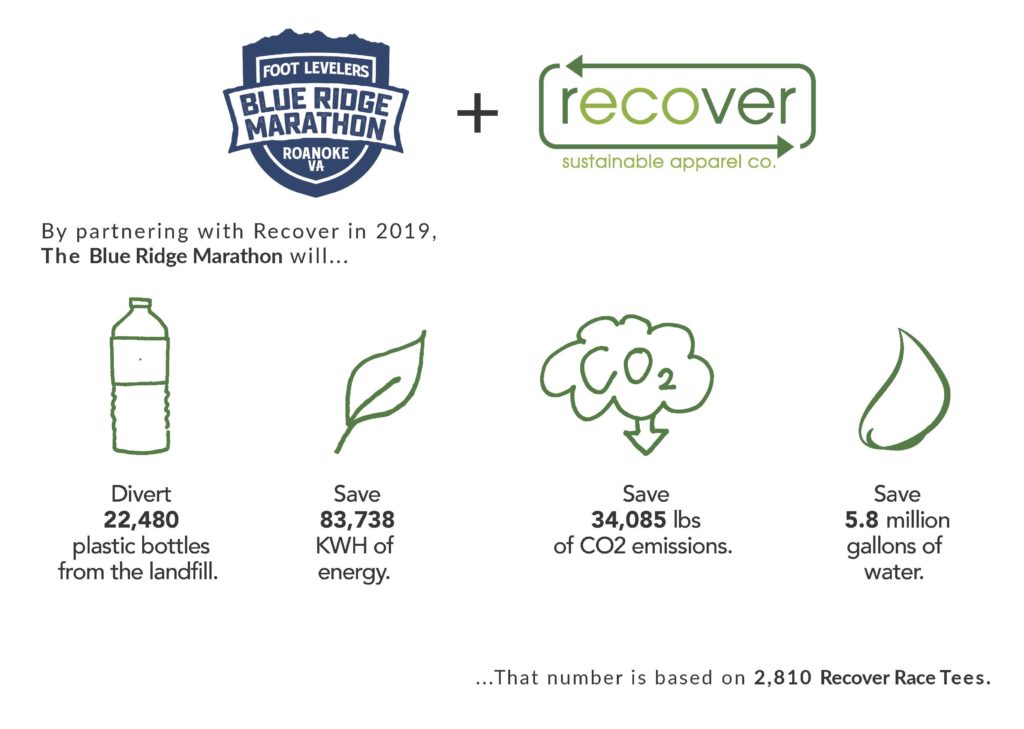 ---
Save the Environment AND 15% Off Your Registration
Register by February 28th at midnight and save 15% on the full marathon, half marathon, 10k and relay. Double marathon is available by wait-list only.