Runners might see a familiar face along the course this year. Olympian and author Jeff Galloway is founder of the "run-walk-run" training method that has helped open running to millions of people. A U.S. Olympian (1972) and a U.S. 10-mile record holder (47:49) in 1973, he authored North America's best-selling running book, and a monthly columnist for Runner's World magazine for 21 years. Galloway will be available at the Friday morning shakeout run, expo and packet pickup, on race day, and at the Slow-K.
Jeff is a legend within the running community and made marathons a sport for the masses. Before Jeff's training method, many believed marathons were for elite male athletes. Thanks to Jeff's advice and leadership, runners of all ability levels have successfully run marathons. Jeff, and his wife Barbara, have ran a marathon nearly every month for the last thirty years without injury.
Galloway Running School- Friday, April 12th from 5-8pm
*Roanoke, VA -(Blue Ridge Marathon) Friday April 12, 2019, 5:00 PM – 8:00 PM; Roanoke City Library, 7065 Jefferson St. Roanoke, VA 24016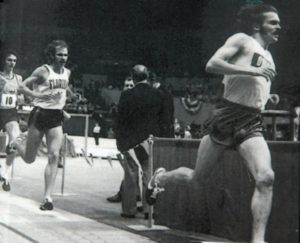 While Jeff will be available for questions, book signings, running advice and photos throughout the weekend. He will also be offering his exclusive running school which only comes to select cities each year. For the first time in Roanoke, Jeff will offer this highly motivating program to give you all the information you need to reach your goals. Learn more about Jeff's running school.
Running School Testimonial- "I attended your Running Class last month and learned your techniques for the first time. I ran the Boulder Backroads Marathon, 1 week after your class. I am pleased to tell you I ran the fastest marathon this year, and my second fastest ever, all this at least at 5000 feet and a very difficult course. I am sure now that I will be training using your methods, my next will be even better (faster and less painful). I just wanted to say THANK-YOU"
---
Jeff's Race Weekend Appearances:
Friday, April 12th-
7:30am- Blue Ridge Shake-Out Run presented by Fleet Feet
2pm-5pm- Meet & Greet at the Friday Race Expo
5-8pm- Jeff Galloway Running School Program
Saturday, April 13th-
7:35am- Jeff will be on the full marathon course so this is your chance to run with an Olympian!
Sunday, April 14th-