Runners are eager to find out which of their favorite events will be hosted in real life this year and on that front we have good news: The Foot Levelers Blue Ridge Marathon is committed to hosting an in-person race on April 17, 2021.
Dedicated event staff have been working closely with top medical advisors to prepare necessary modifications. Safety protocols may include staggered start times, distanced corrals, masking at starting line and aid stations, and modified expo and finish line protocol. Click here for the latest information on COVID-related race modifications and updates.
Voted "Toughest Race," "Best Marathon," "Best Running Event," and "Best Weekend Experience" numerous times by Race Raves, Blue Ridge Outdoors Magazine readers and Runner's World Magazine, this epic race is worth adding to your bucket list. Read testimonials from real runners on why people love this must-do race.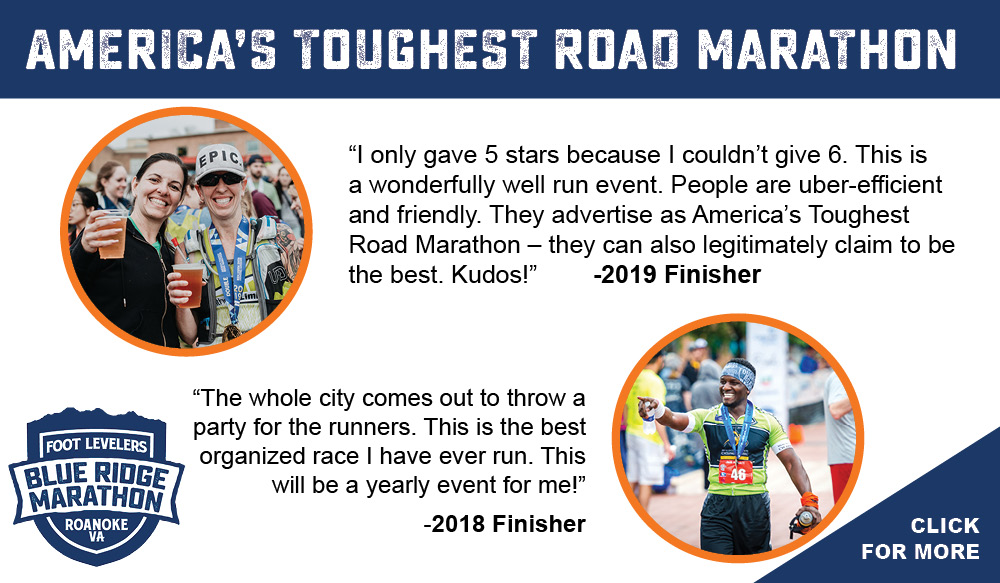 The Foot Levelers Blue Ridge Marathon has earned its title as America's Toughest Road Marathon™ by challenging runners with over 7,430 feet in elevation change, more than any other road race in the U.S. The course runs along the famously scenic Blue Ridge Parkway with the full marathon summitting three mountains so you can earn each overlook. You can even feel good about your entry dollars because 100% of proceeds from this non-profit event benefit the parkway, the outdoors, and other charities.
For runners who prefer not to travel, Blue Ridge will offer virtual race options. These unique challenges require participants to tackle tough elevation gains as would be expected for America's Toughest Road Races to earn serious bling and bragging rights. Virtual runs can be done on the actual course or from home anytime during the month of April 2021 (except race day if running on course).
IRL race options include:
Epic Challenge, Beautiful Views, A Music Festival, Slow-K Recovery Fun Run, and More!